What is the difference between a therapist and a coach?

A therapist often explores a client's past with the goal to help clients fix their problems, overcome issues and help manage mental illness.
A coach is aware of the client's past but works in the present and future. Coaches see opportunities rather than problems, and help clients identify and create an action plan to reach their goals.
A coach keeps your confidences, listens, supports and encourages you, but does not give advice or judge.
A coach empowers you to do things you may not realize or believe you can do and helps you decide how to take action.
A coach believes you have and will find the answers inside — coaching results in sustainable changes and long-lasting effects.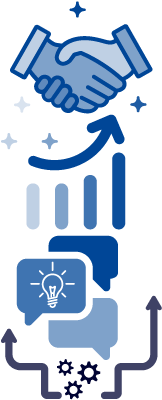 Each coaching relationship is unique to individuals and organizations. However, 3–6 months of coaching is useful for long-lasting, life-changing results.
Initially, the coach and client may speak several times a week as new skills, information and perspectives present themselves.
Over time, the success of coaching often results with clients talking with the coach on a weekly or even monthly basis.
Every client's needs are different. Individual sessions and packages are available and tailored to each client's needs. The average coaching session is 45-60 minutes.
Generally, coaching services are sold in packages of hours. The most popular strategy sessions are a 3-month jump start package, while others prefer the value of the 6-month package of sessions.
Coaching work is mostly done between sessions while using the newly acquired knowledge and tools in daily life.
Leslie Monieson is a certified professional executive coach that helps you achieve more, shift your mindset, and create new pathways to success.